Driving Barefoot And Negligence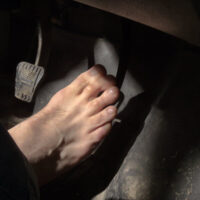 While many believe it is illegal to drive barefoot, that is not actually true. It is not against the law to drive without shoes, but many believe it is not the best practice. After all, your bare foot may slip when it needs to be applying strong pressure, to the gas or the brake. Doing everything you can to not lose control is always best.
If you were driving barefoot when a car accident occurred, you could be accused of driving recklessly or an insurance company could suggest you were partially at-fault for the collision. Discuss your case with a Baltimore car accident lawyer. An experienced attorney can help with your settlement negotiations.
Accidents and Inappropriate Footwear
While driving barefoot may have unique dangers, many accidents are connected to drivers wearing inappropriate footwear.
Some examples of improper footwear risks include the following:
Loose laces getting tangled up in car pedals
Flip-flops and airy sandals falling off or getting stuck in poor positions.
High heels that lead to a driver applying pressure to pedals at an odd angle.
While it is not against the law to wear high heels, flip-flops, or loose laces, for safety reasons it is best to wear shoes that cover the foot, do not limit movement, and have a flat, stable sole. Some choose to have a pair of shoes for driving in the car. Then, they can easily switch to a fashion shoe when they have reached their destination, whether that is a high heel with complicated straps or a nearly barefoot sandal.
Police Reports and Insurance Companies
Some argue that driving barefoot allows you to control the speed, agility, and braking, but there are others who claim bare feet and inappropriate footwear leads to accidents. After a Maryland car wreck, there could be a note in the police report about the accident being caused by inappropriate footwear or bare feet. And even without this type of documentation, an insurance company could point to the footwear choice as a reason to reduce or deny a settlement.
The footwear contributing to an accident could be referred to as careless or the insurance company could state the driver who was barefoot was partially at-fault. These comments could be exacerbated if the injury is to the foot. For example, if your feet were injured in the accident due to smashed glass, an insurance company could point to the fact your feet would not have been injured had you not chosen to drive barefoot. A Baltimore car accident lawyer can guide you through the process of insurance negotiations.
Are you unsure how to handle your need for compensation because you were driving barefoot when a Maryland accident occurred? If you have high medical expenses, connect with a skilled attorney who can navigate complex claims. Have an experienced attorney work for you. Compensation is possible when another person or party was negligent. Reach out to the legal team at Iamele & Iamele, LLP. With years of personal injury claim knowledge, our attorneys can help. Contact us today for a free initial consultation.