Dog Bites And Strict Liability Rules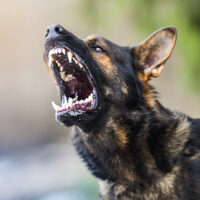 Different US states treat dog owners liable for animal bites in different ways. The state of Maryland is a state that follows strict liability rules. Because of this, an animal owner can be held responsible for a dog bite even if the dog had never attacked anyone before. Some states do not hold an owner liable if they were unaware the animal could be aggressive, this is referred to as the one-bite rule, Maryland is not a one-bite state.
Even with strict liability rules in place, it needs to be proven that the dog bit the victim while the person was on public land or was on property legally. To determine how much your animal injury claim is worth and determine a path forward, talk to an experienced Baltimore personal injury lawyer.
Strict Liability or Negligence
After a dog attack in the state of Maryland, you have a couple of paths to compensation. You  could file a claim connected to the negligence of the dog owner or file under strict liability statutes. Negligence claims will require proving the dog owner did not take the necessary steps to protect public safety, and as a result you were harmed by the dog.
If the dog is dangerous and has inflicted major injuries, criminal charges could also be an option. But the majority of dog bite cases are civil claims, they are a way for the injured party to access financial awards to settle debts connected to their animal attack injury. Medical care expenses and prescriptions, for example.
The amount of damage recovery that is possible is directly related to your injury fees, expenses, and costs. While damages connected to physical injuries often have a clear medical record, emotional issues can be more difficult to prove. For this reason, if you have trouble sleeping as a result of the animal attack or are experiencing anxiety or depression, keep a log of what you are experiencing. Share the records you have with a mental health care provider and archive the invoices and payments from that care as well.
Connect with a MD Attorney
If you are unsure how to access compensation following a dog attack and are unclear on what documentation would support your claim, share your story with a Baltimore personal injury lawyer. It is possible an animal owner's attorney will push back, claiming you were on the property illegally. You need a legal expert fighting for you.
Is a strict liability claim the appropriate path for you after a dog bite? Animal attacks are incredibly upsetting, and the medical bills that follow can be a drain on household resources. If you are seeking damage recovery for a Maryland dog bite, connect with the legal team at Iamele & Iamele, LLP. Our seasoned legal team is committed to supporting you throughout the personal injury claim process, we will share with you the pros and cons of filing under strict liability or negligence laws when an animal attack resulted in injury. To get started, schedule your free initial consultation today. Contact us to schedule an appointment.