Does the Insurance Company Need to See My Medical Records?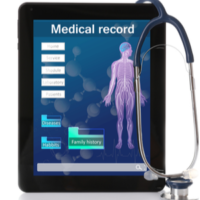 If you were injured in an accident and required medical attention, an insurance negotiation could follow. This has been true for individuals who have been hurt in slips and fall accidents, car wrecks, and in medical accidents. Each situation has its own details to assess, but it is likely medical records will be an important factor in securing a high settlement amount.
Documentation is needed to prove your claim, but that does not mean the insurance company needs to see your entire health history. How injuries were sustained and what treatment plan was prescribed is important. But if there are items you believe are private that do not pertain to your claim, discuss them with your Baltimore personal injury lawyer.
You Have Protections Under HIPAA
When it comes to your medical records and health history, there are laws in place to protect you. One that many are familiar with is HIPAA, which stands for the Health Insurance Portability and Accountability Act. In 1996 HIPAA was signed into law and set national standards for protecting the health information of an individual. Consent is needed, you are required to have knowledge of someone accessing your records.
While many things have changed since 1996, HIPAA protections remain in place. This means that even though medical records have gone electronic in most cases, you still have a right to sign off before your records can be released. Your insurance company may ask you to sign off on this request, but it would be better to discuss the situation with a lawyer first.
During the discovery phase of your claim, your lawyer can gather documentation and do what is best to strengthen your case. Then, they can share the aspects of the medical record that clearly state your expenses, proving the need for a settlement. Of course, you need to be clear with your lawyer about pre-existing conditions that were exacerbated by the accident.
You do not have to allow an insurance company to have complete access to your health records. After all, the reason they need to see medical records at all is to have proof of the accident injury and treatment plan. Those are fees, expenses, therapies, and medications are one slice of your medical history.
Have an Experienced Professional Collect Documentation
It takes time to gather evidence and prove the need for a settlement. An experienced Baltimore personal injury lawyer knows how to move the process forward in an efficient manner, saving you time. Personal injury law can be complicated, connect with a skilled legal professional to develop a winning strategy.
Would you like a lawyer to give you guidance on what parts of your medical records need to be disclosed to an insurance company? The legal team at Iamele & Iamele, LLP is available to discuss your situation, from car and truck accidents to motorcycle accidents. Our attorneys successfully secure compensation for accident victims in the Baltimore-Washington Metropolitan. We have extensive knowledge and experience in vehicle cases. Contact us today for a free initial consultation.
https://www.iamelelawfirmbaltimore.com/not-all-trucks-have-safety-features/