Determining Liability And Lane Change Collisions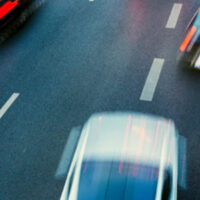 If you need to drive from one area of Maryland to another, chances are you will need to make at least a couple of lane changes. Merging in and out of traffic lanes is part of driving, but it needs to be done with caution. When drivers aggressively merge and surprise, or strike, other drivers, property damages and personal injury are possible. If you believe you have a right to compensation after a Maryland lane change accident, talk to a Baltimore personal injury lawyer.
Things an Attorney Can Do for You
Even when it is clear to you that another was responsible for your accident injury, your word will not be enough to prompt an insurance company employee to disburse funds to your bank account. Evidence that proves your need for recovery needs to be established. A lawyer can help you achieve this final resolution in a variety of ways.
Handle all of the insurance adjuster negotiations.
Investigate accidents and determine who is liable or if multiple parties can be held accountable.
Reach out to experts and professionals when their testimony would support your claim.
Share information with you throughout the process, so you know when a settlement offer is fair and when it is appropriate to continue pushing for a higher offer.
Represent you in a Maryland court, if negotiation strategies are not fruitful.
As the investigation progresses, your attorney will share paths forward with you. For instance, if it is discovered that there were signage issues that lead to a lane change accident, a municipal claim may be the correct course of action. Or, if another driver was drunk or distracted, they can be held individually responsible.
Calculating All of Your Damages
After a MD lane change accident, a Baltimore personal injury lawyer can review your documentation and determine the value of your claim. This is an essential part of the process as it will prevent you from inadvertently agreeing to an amount that is too low for you to settle your medical bills, property expenses, earnings loss, and emotional distress.
Getting started as soon as possible is advised as there are deadlines that need to be followed. For example, statutes of limitations are in place. Sometimes extensions can be requested, particularly if injuries were slow to show, minors were injured, or a liable party can't be located, but these are exceptions and are rare. Trying to rely on exceptions can lead to disappointment. To understand what timelines apply to your case, talk to an attorney.
Were you hit by a Maryland vehicle that was changing lanes recklessly? After an accident in the Baltimore-Washington Metropolitan area, a skilled legal team can help you access the damage settlement you need to financially recover. To have the details of your situation assessed, set up a meeting with the legal team at Iamele & Iamele, LLP. Bring any documentation you have and share the details of your accident injury. Then, our team can begin to fight for your rights. Contact us to book your initial appointment.