Conversations, Emails And Attorney-Client Privilege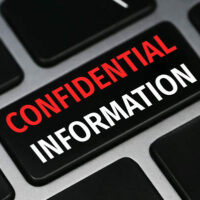 If you were in a car accident in the Baltimore area, it is possible you sustained an injury. And that injury may not be something you are comfortable talking about publicly. The injury may be in a region of your body that is private or it may have exacerbated a pre-existing condition you don't normally discuss openly. But you could still secure the damage recovery you need to pay your bills and move past the injurious event. Attorney-client privilege, followed by a licensed lawyer, protects your privacy.
When you connect with a Baltimore car accident lawyer, let them know you have confidentiality concerns. A skilled lawyer can answer your questions regarding confidentiality and let you know how to be sure to keep private information private. It is important you work with a legal professional you trust, they should be able to clearly walk you through the path toward privacy protection.
Emails from Your Personal Account
For example, your attorney may advise you to use your personal email account when emailing with them about your claim. After all, a work email is owned by the company you work for, they may be able to access the information. A lawyer can give you privacy advice for phone conversation and text messages as well. A person who overhears you speak about your accident injury, for instance, does not have a responsibility to keep your information private.
Licensed attorneys respect attorney-client privilege, but remember the confidentiality does not apply to law students or paralegals in the same way. For this reason, ask your lawyer who in the office you should share information with, and who you should not speak to about your claim or case for ultimate privacy.
There is a crime and fraud exception to attorney-client privilege. If you are attempting to use the privilege to commit a crime or cover up a fraud, the privilege does not apply. When you are working with a personal injury lawyer, simply share all the details of the event that are required in order to fairly secure the settlement you need, including information about the collision and your injury. A lawyer who is acting in a professional capacity and negotiating with insurance adjusters after a collision will use details to promote your best interests.
Choose a Baltimore Attorney Who Respects Your Privacy
You, as a client, need to trust your lawyer and feel confident your legal representative is respecting the attorney-client privilege rules. A Baltimore car accident lawyer can fight for your rights and secure the compensation you need while you focus on healing.
Did you sustain an injury you are embarrassed to talk about in a car accident? Are you unsure how to move toward a settlement package? Talk to a legal professional first. Contact the legal team at Iamele & Iamele, LLP to understand your personal injury claim options. Our attorneys successfully secure compensation for individuals coping with injuries and large healthcare expenses in the Baltimore-Washington Metropolitan area. Contact us today for a free initial consultation.