Car Crashes Can Happen In Baltimore Parking Lots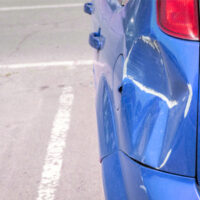 When driving through a parking lot, it may feel like an accident is unlikely because everyone is driving at slower speeds, but car crashes do happen in Baltimore parking lots and sometimes the injuries are severe.
If you were injured in a parking lot accident, there are paths to compensation. Whether your medical bills are due to fractures or whiplash, a Baltimore car accident lawyer can help.
What to Do After a Parking Lot Accident
When accidents happen in parking lots, it is different from crashes on city streets because parking lots are often the private property of the property owner. For that reason, the police might not come right away if the accident was not severe. If someone was injured and help is needed, first responders will come right away. But, if the damage was solely to the vehicles, the car drivers may be responsible for documentation.
Documentation you need to collect after a car crash:
Other driver's insurance information
Name, contact information and address of other driver
Make and model of vehicles involved
License plate numbers
If possible, collect witness accounts
Take pictures of vehicle damage and the scene of the accident
Even at slow speeds crashes occur in parking lots everyday. They happen when one driver backs into another, rear-end collisions at stop signs, or when multiple drivers are pulling into a parking space.
In situations when two drivers make an impact when moving toward one parking spot, determining fault can be complicated. That said, it is possible. For example, if one of the vehicles was turning, traffic direction and rules could be taken into account. A Baltimore car accident lawyer can look over your documentation and let you know how to proceed.
Even After Small Accidents, Seek Treatment
It is important to seek medical treatment, even for minor injuries. Small pains that go untreated can become big health obstacles later. Your health is the number one concern, the bills associated with doctor visits can be settled later. An insurance company will likely cover your medical expenses after a parking lot accident. It may also be possible to secure a financial compensation package that includes lost wages and damage to property.
Having legal representation is important because an insurance company may attempt to only pay a portion of the damages when a full compensation amount is within your rights. For this reason, do not sign a settlement offer that is too small, doing so could be signing away the possibility of a lawsuit. Instead, work with an attorney to secure a fair settlement amount, one that fully compensates you for damages and injuries.
An experienced attorney can negotiate with insurance companies to secure a fair settlement amount. If the insurance company refuses to offer the amount desired, filing a lawsuit may compel the company to offer a higher amount.
Were you injured in a Baltimore parking lot accident? Let our attorneys work toward a fair settlement for you and your family. Reach out to the legal team at Iamele & Iamele, LLP to understand your options. Contact us today for a free initial consultation.
https://www.iamelelawfirmbaltimore.com/coping-with-anxiety-after-a-car-crash/