Car Crash Injuries Must Be Reported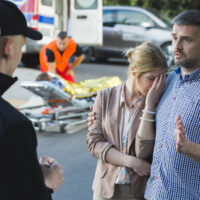 In the state of Maryland, not all accidents need to be reported to the police, but if there were injuries the accident is legally required to be reported. It is also necessary to report a crash that results in one or more vehicles needing to be towed away from the accident site.
In most situations, you should report any accident you were involved in as it is a step to protect yourself and your rights. If another party caused the accident, you need to have the details of them being at fault on record. Even minor accidents can lead to problems later. There may be injuries that you did not recognize immediately, or substantial vehicular or property damage that went unnoticed. If you have bills connected to a Maryland accident, to a Baltimore car accident lawyer and have them pursue an insurance company settlement on your behalf.
Phone Calls with Insurance Companies
After an accident, you may be under a contractual obligation to alert your insurance company of the event. It is also possible you will be contacted by the insurance companies of other people or parties involved in the crash.
When you discuss the situation with your insurance company, convey the facts. This means you should avoid additional information, including making assumptions about what might have happened or downplaying injuries. Instead, answer any questions factually and clearly, avoiding extra conversation that is not necessary.
Then, if another's insurance company representative reaches out, you need to know you are not required to speak to them about the accident. The contractual obligation to talk to an insurance company only applies to your policy, not the policies of others. Any conversation you do have, if you choose to speak to them, should be limited to primary facts.
Essentially, whenever you are talking to an insurance claims adjuster, you do not want to provide them with any extraneous information that would later be used to deny or reduce your settlement amount. There are times when insurance company adjusters will try to shift liability to shield their payout responsibilities.
Consider Legal Representation
Navigating conversations and agreements with insurance companies is not always easy. There can be challenges that you were not expecting. When you work with a Baltimore car accident lawyer, they will investigate the causes of the crash for you. In addition, they can gather essential evidence, such as surveillance video footage, medical records, and witness accounts.
Car, truck, and motorcycle accidents can be high stress events, and you may be unsure how, if you are confused on what to do next, know there are legal professionals to help you through the process.
Do you want someone to guide you through who to call and what to say after a car wreck? You need an attorney working for you. Contact the legal team at Iamele & Iamele, LLP to understand your claim options. Our attorneys successfully secure compensation for individuals coping with injuries and large healthcare expenses in the Baltimore-Washington Metropolitan area. Contact us today for a free initial consultation.