Attorney Fees Depend On The Case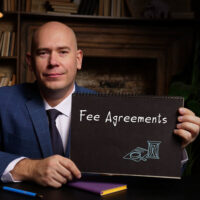 Pursuing financial recovery through an insurance claim or personal injury lawsuit can have an accident victim spending energy to carefully look over their expenses and considering how much money is needed to settle all of their bills. When doing this, it is common for people to wonder how much a lawyer will cost and how their fees will be calculated.
While there are broad ranges that can be given to you when it comes to the cost of retaining an attorney, to get a specific number a lawyer will have to listen to the specifics of your unique situation. An honest Baltimore personal injury lawyer will assess your case and walk you through the different types of fees that may be applicable.
Heavy Research May Be Required for Complex Cases
In the beginning of the damage recovery process, an attorney will create a strategy that will lead to the best possible outcome given the details of your situation. If your case is complicated, fees could be higher than they would be if your right to compensation is incredibly clear.
Complex cases could require investigation and research in order to obtain the outcome you are seeking, which can increase costs. For instance, when you retain an attorney, they will likely cover all the costs of pursuing a full and fair settlement and then deduct those expenses from the final court award or insurance settlement. Some of the costs that could apply include the following,
Fees for expert testimony
Expenses for court filings
Costs of collecting and copying reports
Investigation expenses
Fees for depositions and transcripts
When expert witnesses are needed and those experts have a lot of professional experience their fees could be higher, so who is involved in your case will impact costs as well. But not all cases require medical experts to forecast future medical fees or forensic accountants to untangle financial agreements, these types of experts are only needed when a case is composed of many interconnecting elements.
Areas of Specialization
For your case to be successful, it is helpful to connect with a Maryland legal professional who has achieved positive outcomes in cases similar to your own. This means if you were involved in a motor vehicle accident, harmed by a dog bite, or injured when a product did not perform properly, you want to connect with an experienced Baltimore personal injury lawyer.
A lawyer in another area of specialization may agree to take your case, but they likely do not understand the ins and outs of Maryland personal injury law.
Will you be able to afford an attorney once all the legal fees are addressed? You don't need to guess about the financial costs of legal representation, instead talk to the skilled attorneys at Iamele & Iamele, LLP to get the facts. With an attorney on your side, you may be able to access the maximum financial settlement amount. When compensated on a contingency basis, attorneys are paid from your settlement, meaning you have no out-of-pocket costs. Contact us to schedule your free initial appointment today.