Aggravated Pre-Existing Conditions And Accident Claims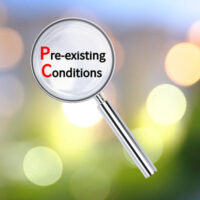 After a collision in the Baltimore-DC area, it is possible you will be contacted by an employee of an insurance company and they may begin to ask you questions you are not prepared for. This can be particularly true if you had a pre-existing health condition that was aggravated by the crash, resulting in your needing medical care. The fees for hospital visits and doctor appointments could be disputed by an insurance company if the injury was pre-existing. Connect with an attorney to understand your rights.
Legal experts understand the impact of pre-existing injuries on claims and know how to disclose them and when. Having a Baltimore personal injury lawyer guiding you through the process and talking to insurance adjusters for you will help to reduce the possibility of your claim experiencing a denial or reduction. You have a right to compensation if you were injured due to someone else's negligence, including harm of a condition aggravated by a car collision.
Types of Pre-Existing Conditions and Complicated Claims 
There are many types of pre-existing injuries that can be exacerbated by a forceful car crash. They may include one or more of the following:
Anxiety and depression
Broken bones and fractures
Back strains and disc injuries
Concussions and head traumas
Being honest throughout the process of filing a personal injury claim and securing a settlement is essential. Accurate, truthful information is needed in order for a fair compensation package to be negotiated. Providing false information will only lead to more problems. Instead, have a medical professional assess your injury and have the accident documented as the reason your pre-existing condition has taken a turn for the worse and will require medical care.
Pre-existing injury claims can be confusing for a variety of reasons. In some situations, individuals were involved in two accidents in a short period of time, making it complicated to assess which injury happened when. Or, if a person was in the midst of the healing process and their injury was exacerbated, it needs to be determined which health care expenses are a direct result of the traffic accident.
Talk to an Attorney Before Providing a Recorded Statement
When you are contacted by an insurance adjuster, they may ask you to provide a recorded statement about the accident and your pre-existing health condition. They could also request access to your medical records. Before supplying this information, talk to a Baltimore personal injury lawyer. Attorneys with extensive car accident claim experience know how to be sure you are getting a settlement amount that is full and fair.
Has your healing time frame been altered because your health condition was aggravated in a Baltimore car crash? Connect with a skilled lawyer as soon as you can to discuss disclosing a pre-existing injury and how to strengthen your injury claim. The attorneys at Iamele & Iamele, LLP are committed to helping clients through the personal injury claims process and will help you explore your unique recovery options. Call 410-779-6160 today to schedule your no-cost consultation.