After An Accident, Have Repairs Completed By A Professional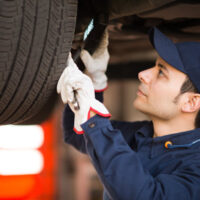 Often repairs are needed after a car crash. Sometimes the repair is simply because of  a minor fender bender, but in other situations the damage to a vehicle is severe. If you have a friend or family member that works on cars as a hobby, they may suggest they can fix your car. It is important you talk to a legal professional about your damage recovery options before moving forward with this type of repair. It is typically best for an experienced, professional mechanic to supply car repair estimates and complete the work.
In order to obtain a full and fair settlement package, there are best practices to follow. Do-it-yourself repairs may reduce your compensation settlement. To have the details of your situation assessed by a professional, talk to a Baltimore car accident lawyer.
Resale Value and Proper Repairs
Part of having a car repaired by an auto body professional is getting the vehicle back to the condition it was in prior to the accident. For example, matching the paint color of a car that has spent time in the elements may not be easy, but an auto body shop can do so. Then, if you want to trade in your car at a later date, you will have documentation that the repair was done by a professional. Without documentation and an accident on the car's history, the value of the car could be reduced.
It is also possible the vehicular damage that occurred in the crash is more complicated than you or your friend who looked at the car thought. A professional shop knows how to look at surface damage and deduce if there is more damage under the surface level. The visible damage may only be part of the problem. Having a full analysis done by a skilled mechanic will provide you with a repair estimate that an insurance claims adjuster will take seriously.
Further Damage is Possible with DIY Repairs
There have also been instances in which individuals repairing their own cars end up doing further damage. If you or a friend of yours harms your car while trying to fix it, that damage will likely not be eligible for compensation. Even when a person does know how to fix a vehicle, they may not have the correct tools and inadvertently break or scratch another area.
Accident claims can be complicated. When questions arise, connect with a Baltimore car accident lawyer to have your rights protected. A lawyer can advise you on what steps you should take and let you know what level of companion is possible.
Has a friend or family member suggested they repair your car after an accident but you aren't sure if you should take them up on their offer? Talk to a legal professional first. Contact the legal team at Iamele & Iamele, LLP to understand your claim options. Our attorneys successfully secure compensation for expenses in the Baltimore-Washington Metropolitan area. Contact us today for a free initial consultation.