After A Maryland Rideshare Crash, Contact The Company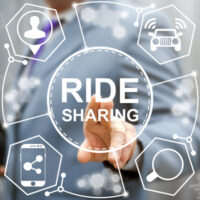 It is well understood that driving cars and trucks carry dangers and accidents are more likely when a driver is tired or intoxicated. Because of this, many choose to take a rideshare service if they are not able to drive themselves safely or if they want to access the convenience of riding in a Lyft or Uber. While these alternative forms of transportation are used by a lot of people in the Baltimore DC area, accidents are still possible.
Whenever you get into a vehicle, take the precautions you can, including wearing your seatbelt. And if an accident does occur, protect your access to full damage recovery through careful documentation and contacting the rideshare company to inform them of the collision. To learn more about best practices, connect with a Baltimore personal injury lawyer.
Won't the Driver Connect with the Company?
While it is possible the rideshare driver will contact the rideshare company, you can't rely on the behavior of others. Contacting the company yourself is a way to protect yourself from the company not providing compensation later because they were never made aware of the injurious event. The driver may not let the company know because they are fearful of repercussions, for example.
Contacting all of the involved insurance policies is often advised. This means your vehicle insurance company, the personal coverage of the rideshare driver, and the rideshare company itself so they can document it with their insurance. When an accident claim is complicated, it is possible funds will be coming from a few different insurance companies. Altering all of them to the situation as soon as possible could be a proactive step to ensuring you receive the settlements you deserve.
Will I Need Evidence?
Even when insurance companies are aware of an accident, documentation of the injury and the need for medical treatment will be necessary in order for the policies to pay out for medical fees. Sometimes it is difficult to know what information will be needed, so gathering as much documentation as possible is often advantageous. This means taking pictures of the accident site and documenting injuries. Medical records and Maryland police reports could also be helpful.
You do not have to go through the Maryland rideshare damage recovery process on your own, there are legal professionals who can guide you through the process. Talk to a Baltimore personal injury lawyer today about your financial compensation options after an Uber or Lyft accident injury.
Are you ready to hold the rideshare company responsible for your injury accountable? A dependable Maryland lawyer will work to secure a full and fair compensation amount for you and your family. If the accident occurred in the Baltimore-Washington Metropolitan area, contact the legal team at Iamele & Iamele, LLP. Our seasoned legal team has the skills and experience you need, we will strengthen your claim and push back on low settlement offers that are far less than what you have a right to after a Maryland crash. Contact us today to schedule your free initial consultation.