Accidents Happen On Many Different Types Of Motorcycles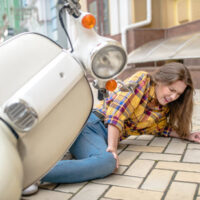 Motorcycle enthusiasts take to the open road for a variety of reasons. Some enjoy spending the day riding with other motorcyclists and they stop to eat and gather along the way, riding is a way to socialize. Others choose motorcycles because they are a way to get out of town, on their own, and enjoy quiet moments with mother nature. Riding can be exciting, fun, and an efficient form of transportation. But accidents are possible. And there can be injuries.
If you have been in a Baltimore or DC motorcycle accident, talk to a Baltimore personal injury lawyer before signing anything offered by an insurance company. An experienced lawyer can look over the documents and determine if you are being offered a fair settlement. Motorcycle coverage can differ in many ways from auto insurance coverage, you need an expert on your side.
Types of Motorcycles and Different Crash Circumstances
Individual rider and their passengers can be injured on any of the following types of bikes:
Choppers
Cruisers
Sports bikes
Dual-sport or dual-purpose bikes
Scooters
Mopeds
Job-related motorcycles
Accidents happen for a range of reasons, but some frequent motorcycle collision causes include lane splitting, turn accidents, speeding, distracted driving, and head-on crashes. When accidents happen, you need a legal professional to help you navigate the process following a crash.
Serious injuries are possible when motorcycle riders are involved in collisions, whether that crash is with another vehicle or a standing object or building. It is possible an insurance company will try to pay as little as possible, even when the injured rider has a right to full compensation.
A skilled attorney can work through the process to get your medical expenses paid, compensate you for lost wages, and reimburse you for out-of-pocket bills, including imaging costs and physical therapy. It is possible pain and suffering or emotional distress could be part of your claim or case.
Trying to Fault the Cyclist
There are times when an insurance claims adjuster or the legal team of another party involved in the collision suggest the motorcyclist was at fault and therefore compensation is not necessary if the settlement amount should be greatly reduced from the number desired by the injured motorcyclist. They could claim the bike operator was passing in an unsafe manner or weaving dangerously in and out of a traffic area, for instance.
A seasoned Baltimore personal injury lawyer with years of experience handling motorcycle accident cases knows how to refute unsubstantiated claims. They can do so through gathering evidence and pointing to potentially troubling factors of another's argument.
Are you unsure how to fight for your rights after your cruiser or moped accident? If you have high medical expenses, connect with a skilled attorney who can navigate complex claims. Have an experienced attorney work for you. Compensation is possible when another person or party was negligent. Reach out to the legal team at Iamele & Iamele, LLP. With years of personal injury claim knowledge, our attorneys can help. Contact us today for a free initial consultation.