Accepting Cash From Another Driver At A Crash Site Is A Bad Idea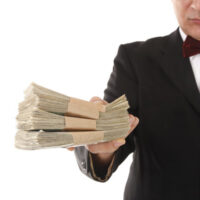 If you were in a Maryland car accident site and were offered cash by an at-fault driver, you are not alone. Across the country individuals offer others cash to avoid the time, stress, and hassle of accident claims and legal filings. But contacting the police and filing an insurance claim is an important part of the process, and it is difficult to impossible to know exactly what your final expenses will be in the moments immediately following a collision.
Discuss your need for monetary damages with a Baltimore personal injury lawyer. Lost income, medical bills, and other expenses add up quickly, often totaling in the thousands of dollars. If you accept hundreds of dollars at the accident site and forgo documenting the incident, you may not be able to access the recovery you need to pay off all of your accident expenses.
Police Reports Provide Valuable Documentation
In most accident situations, the other driver is not someone you personally know. So, if they offer you hundreds of dollars at the time of the crash and tell you to simply call them should you need more, you do not know for sure if they are sharing the right contact information or if they will stay true to their word. It is possible you will never see or hear from them again, even if you make future outreach attempts.
When you call law enforcement after a crash, they will assess the situation, document details, and gather the contact information of all involved with the event. All of these facts are important to a successful insurance claim. And a claim could be essential for your financial health should you collect more expenses than you initially believed you would.
For instance, an injury from the accident could be initially masked by surging adrenaline and stress. But harm discovered later may require doctor appointments, prescription medications, medical tests, and physical therapy.
Think Long Term
There are people who are tempted to take cash in the immediate aftermath of a crash because they want the event to be behind them. Yet accepting money before you have gathered the full picture of your property damage expenses and any health concerns could cause you more problems. The cash itself, and not reporting the accident, could actually be the start of a financial crisis if large bills and income loss is experienced. Before agreeing to any terms or settlement, talk to a Baltimore personal injury lawyer.
Did another driver involved in your Baltimore crash offer you cash to not report the event? It is important to understand that a cash offer may be far lower than the amount you truly need to settle your accident expenses. Share your property repair bills and medical fees with the legal team at Iamele & Iamele, LLP. Once our attorneys are familiar with the facts of your case, we can talk you through your recovery options and discuss the worth of your claim and how much could be achieved through legal action, if necessary. Contact us to book your initial appointment.