A Baltimore DWI and Your Credit Score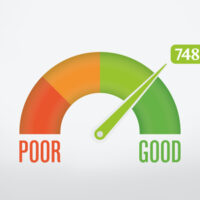 A DWI, driving while intoxicated, can cause a lot of damage to your life, including impacting your credit score. While the charge itself does not show up on a credit report, a DWI has financial consequences that can cause problems for years to come. There are a multitude of reasons to do all you can to avoid a DWI.
If you are charged with a DWI, you need a legal professional on your side. Connect with a Baltimore DWI lawyer to understand what consequences you are facing and how to best handle the situation.
Paying Fines and Credit Cards
Maryland DWIs have fines attached. If a person does not have the funds to pay, the fine could be sent to a debt collection agency in an attempt to settle the bill. When bills end up in collections, an individual's credit score can decline.
Of course, there are also times when people do not ignore a fine they cannot afford but instead use a credit card to pay them. This can also negatively impact an individual's credit score if charging the fine pushes their credit utilization past 30%. The amount of revolving credit a person carries from one month to the next on a credit card is referred to as credit utilization. To keep a credit score high, keeping a revolving credit balance under 30% is recommended.
There are reasons to be focused on maintaining a high credit score. With a good credit score it increases the likelihood of securing favorable terms for debts, which is important if a person is shopping for a home and needs to apply for a mortgage, for example. Credit scores may also be checked when a person is looking into insurance policies or rental properties.
More Charges and Fees
It is not only the one large fine, either. There can be additional charges and expenses due to a Maryland DWI. When you talk to a Baltimore DWI lawyer, you will have a legal professional on your side. With experience, an attorney can advise you on the best path forward for your situation.
Additional financial stresses due to a DWI:
Vehicle impoundment expenses
The cost of alcohol education classes
Ignition Interlock Device fees
Increased amount for car insurance premiums
Of course, the consequences of a DWI charge ripple past your finances too. There are times the conviction could be on your record, an issue that can cause problems if you have a criminal background check performed for a potential job. Another candidate could secure the position you were hoping for because they had a clear record and you didn't. It is important to fight for your rights and secure the best future you can, talk to an attorney about your DWI charge today.
Are you worried about how a Maryland DWI will impact your life? Contact the legal team at Iamele & Iamele, LLP to understand your options. Our knowledgeable attorneys can defend you against minor and serious criminal charges. Contact us today for a free initial consultation.
https://www.iamelelawfirmbaltimore.com/is-there-a-defense-after-a-failed-sobriety-test/