3 FAQs on Medical Malpractice in Maryland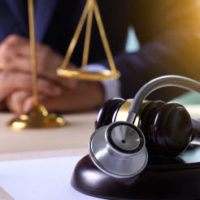 Medical malpractice is a complicated facet of personal injury law. As modern medicine has become more and more complex, so too has the law regulating liability for patient injuries. In this ever-evolving medical field, it can be difficult to discern between human error and actual malpractice. To help provide some context, the following sections will provide an overview of three frequently asked questions about medical malpractice in Maryland.
What Qualifies as Medical Malpractice?
In most situations, there are four elements to a medical malpractice claim in Maryland:
Medical Injury — The plaintiff suffered an injury caused by the defendant's rendering of health care or failure to render health care;
Standard of Care — The defendant breached the standard of care in causing the medical injury in question;
Health Care Provider — The defendant qualifies as a health care provider under Maryland law; and
Damages — The patient is asking for damages to compensate for their medical injury.
If the injured patient did suffer a medical injury — or the injury did not result in compensable harm — then medical malpractice is unlikely. Similarly, if the defendant does not qualify as a health care provider, the injured plaintiff may not be able to recover for medical malpractice.
What is a Health Care Provider?
Maryland Code of Courts and Judicial Proceedings Section 3-2A-01 provides the definition of a healthcare provider. Specifically, Maryland law includes the following as health care providers:
Hospitals;
Medical day care centers;
Hospice care programs;
Assisted living programs;
Freestanding ambulatory care facilities;
Physicians;
Osteopaths;
Optometrists;
Chiropractors;
Registered or licensed practical nurses;
Dentists;
Podiatrists;
Psychologists;
Certified social workers; and
Licensed physical therapists.
Under Maryland law, the term health care provider does not refer to certain religious medical facilities. If the facility only administers spiritual treatment — in accordance with the standard practices of a recognized religious organization — then it does not qualify as a health care provider in Maryland.
Is there a Time Limit on Medical Malpractice Lawsuits?
Maryland Code of Courts and Judicial Proceedings Section 5-109 outlines the time limit on medical malpractice lawsuits. In most cases, an injured adult patient must file their claim either:
Five years from the date of the medical injury; or
Three years from the date of discovery of the medical injury.
That being said, Section 5-109 does detail several exceptions for minor children who suffer medical injuries. In most cases, the time limit for medical malpractice does not start until the injured child reaches the age of 11. If the medical injury relates to the reproductive system or a foreign object left in the body, however, the time limit begins at the age of 16.
Let Us Help You Today
If you have legal questions about medical malpractice in Maryland, it can be extremely helpful to speak with a knowledgeable personal injury attorney. The attorneys at Iamele & Iamele, LLP in Baltimore, Maryland, have proven capabilities in personal injury law, with a specific focus in medical malpractice cases. If you need legal help, contact us today for a free initial consultation.