Commercial Truck Drivers and Trucking Companies May Be Negligent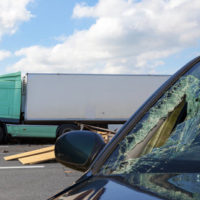 In order for everyone to arrive at their destinations safely, all drivers need to be alert, follow traffic laws, and make responsible decisions when driving. This is especially true for commercial truck drivers. Truck operators are in charge of extremely heavy machines. A commercial truck that is fully loaded could weigh 80,000 pounds when the weight of the tractor and the full trailer are added together. With such heavy weights, devastating damage can result if an accident happens. Multiple collisions could be prompted.
Maryland upholds a law of contributory negligence. That means it is possible your claim will be denied if you carry a fraction of the responsibility for an accident, Talking with a lawyer who understands Maryland law is essential.
After a vehicular accident in the Baltimore or Washington DC area, discuss your situation with a Baltimore car accident lawyer. There can be expensive bills to pay, particularly if there were extensive hospital stays or therapy treatments that will continue into the future. Experienced lawyers know how to assess documentation and determine negligence.
Trucking Companies and Truck Manufacturers
When there is a multi-vehicle accident, which can happen when commercial trucks crash, it can be complicated to determine fault as a number of factors may have contributed to the event. If a driver was not trained appropriately, the trucking company could be at fault. But, if the machine itself was not manufactured in a safe way, another company may carry some of the negligence.
Truck maintenance is the job of the trucking company. So, if there was a recall of a truck part that the company was aware of, that issue should be addressed immediately and the truck should not be on the roads until the issue is fixed.
Also, a truck needs to be properly loaded and pass a safety inspection before taking to the roads and highways. Some of the things that should be attended to include the following:
All cargo should be loaded properly and safely.
Truck weight should be correctly distributed.
No cargo should be loose.
Vehicle should be properly maintained.
If the cargo is not loaded properly, the cargo could shift which would make a roll over accident more likely. And every truck needs to have working breaks, functioning mirrors, and quality tires, for example.
Connect with a Baltimore-Washington Metropolitan Area Attorney
Commercial truck collision events can be extremely complex. There may be multiple parties involved, including drivers, trucking companies, and truck manufacturers. A Baltimore car accident lawyer is needed to advocate for you and protect your rights. Most trucking companies have legal teams fighting for company rights, do not sign any settlement agreements until you have discussed the situation with a legal professional working for you.
Were you in a car that crashed because of a commercial truck collision? Let our attorneys work toward a fair settlement with the trucking company and their insurance team. Reach out to the legal team at Iamele & Iamele, LLP to understand your options. Contact us today for a free initial consultation.
https://www.iamelelawfirmbaltimore.com/baltimore-car-accidents-can-cause-delayed-onset-injuries/