Baltimore and Washington DC Rush Hour Risks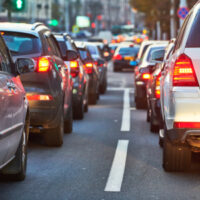 According to recent reports, DC is one of the worst big cities for traffic jams in the United States. This is likely not a surprise to drivers in the Baltimore-Washington Metropolitan area who drive in rush hour traffic daily. The truth is driving during rush hour can be dangerous but there are ways to reduce your risk of collisions.
If you have been in an accident in the Baltimore-Washington Metropolitan area, discuss your situation with a Baltimore car accident attorney. A personal injury lawsuit may be possible after a collision. But before you need a lawyer, take steps to drive safely during peak driving periods, too.
Tailgating Happens During Rush Hour Traffic
Everyone knows that safe driving includes space between vehicles, but that does not mean all drivers follow this rule. Tailgating can be especially present during rush hour because drivers may be distracted by their destination. In the morning people might be worried about being late to a meeting at work and heading home in the afternoon they may be focused on a family event they are driving towards. That said, leaving room is essential because there can be abrupt changes on the road.
If there is not enough room between vehicles, it is impossible to move away from a hazard quickly. For example, if someone slams on their breaks or changes lanes aggressively, a tailgater will have no room to avoid a collision. Be aware of what other drivers are doing and keep a cushion between your car and the car in front of you, and extend that cushion when the weather is bad.
Also remember that staying in the middle lane is likely the right choice when you are in slow traffic during rush hour. This is because the drivers who are moving swiftly out of the far lanes are creating more risk. In the middle lanes, traffic should be moving at a steady pace which may be safer in the long run than trying to reduce a commute by one or two minutes.
Other Tips for Safe Driving
Daily drivers become confident that they are the best drivers on the road, but the truth is everyone can become distracted and be a risk. Drive a vehicle with a good safety record, choose travel routes that are typically stress free, and avoid sun glare when you can.
Other tips that can help to keep a car safe:
Avoid distracted driving and stay aware
Check mirrors to be sure they are positioned properly
Steer clear of aggressive drivers
Invest in polarized sunglasses to cope with sun glare
Be aware of speed limits, traffic signs, and alert signals
Have everyone in the vehicle buckled in their seats
Use caution when changing lanes and use your turn signals
If you have been in an accident, review your compensation options with the legal team at Iamele & Iamele, LLP. Our attorneys successfully secure compensation for accident victims in the Baltimore-Washington Metropolitan. We have extensive knowledge and experience in car accident cases. Contact us today for a free initial consultation.
https://www.iamelelawfirmbaltimore.com/how-to-handle-minor-car-accidents-in-baltimore/