Who Is Negligent When A Car Hits A Runner?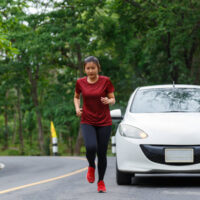 Many who are focused on fitness turn to running as an exercise that fits into their daily routine. After all, you can choose when to put on your sneakers and go out for a run. While this popular exercise can be part of a healthy lifestyle, jogging on the streets of Baltimore or DC is not without risks. There are times when joggers are struck by automobiles and injuries are sustained.
When an accident occurs, many factors need to be considered to determine liability. If you are unsure who to ask for help after an accident, connect with a Baltimore car accident lawyer. There are legal paths to hold negligent parties accountable for their actions.
Runners Need to Be Aware of Road Rules
Drivers on Maryland roadways need to be aware of pedestrians, including joggers. If a crosswalk is marked and designated, the person on foot likely has the right-of-way. But the jogger also has a responsibility to follow road rules. They need to follow the traffic signs and signals, too.
Of course, every accident has to be assessed on its own details. Determining fault will involve looking into if either the driver or the pedestrians were violating traffic laws and where they were on the accident scene. The car should not be on the sidewalk and the runner should not be in the road, unless there is evidence that illustrates why the driver or jogger was making the correct legal choice.
Low Visibility Can Result in Injuries
Some of the common reasons why crashes involving automobiles and pedestrians happen include the following:
Individuals who are distracted.
Drivers under the influence.
People who are fatigued.
Poor visibility
One study from The National Highway Traffic Safety Association (NHTSA) reports a lower amount of accidents during daylight hours. Nighttime and other low visibility times, such as poor weather conditions, lead to accident risks. Joggers who choose to run when there is low visibility can take steps to protect themselves, such as wearing reflective clothing.
Distractions create accident risks for everyone using Baltimore roadways. Anytime that a driver takes their eyes off the road, to talk to a friend or check their texts, accidents are possible. Also, pedestrians need to be aware of distraction dangers. Runners who are changing the settings on their phone while jogging can't be focused on road risks.
When accidents happen, negligence needs to be determined. To have your situation assessed, talk to a Baltimore car accident lawyer. A legal professional can walk you through the process, step by step.
What happens when a driver is following the rules of the road but unintentionally strikes a jogger in Baltimore? Do not sign a settlement agreement until you understand all of your damage recovery options. You need an attorney working for you. Contact the legal team at Iamele & Iamele, LLP to understand your claim options. Our attorneys successfully secure compensation for individuals coping with injuries in the Baltimore-Washington Metropolitan area. Contact us today for a free initial consultation.