What If I Work from Home and Get Injured?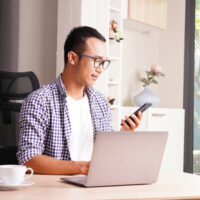 While there are a lot of people working from home, not everyone understands their rights as a remote worker. For example, if an employee is injured at work it is covered by a workers' compensation claim. But if someone is injured while working from home, the issue may be more complex.
As a remote worker in Baltimore or the Washington Metropolitan area, you have rights. If you have been injured performing an activity that was a work-related task, talk to a Baltimore personal injury attorney today.
How to Keep Employees Safe
Some of the complexity in home office workers' compensation claims is that an employer does not have control of the building where an employee lives in the same way they have control over an office building or production facility.
For instance, in an office environment an employer can invest in ergonomic office furniture for all employees, that may help in reducing the possibility of repetitive task injuries, such as carpal tunnel syndrome. Working remotely means an employee could be working in a space that does not have the same furniture and precautions.
Some businesses will have guidelines in place. Here are a variety of ways a company can help keep remote workers protected:
Require remote workers to have an area of the home set up for work only.
Have guidelines and recommendations in place.
Identify and assess any risks with home office inspections.
Develop a remote work policy that all employees understand.
Assess insurance policies to be sure coverage is adequate.
Guidelines and Policies for Remote Workers
When an employer has guidelines in place, it can be helpful for all involved. Then, expectations are clear and if a workers' compensation issue comes up moving forward to compensation will follow a structured resolution. Things to put in a remote work policy include where the work will be done, during what hours, and what to do if a safety issue arises.
Within the guidelines, it may also be helpful to outline if working from home is expected, and will always be the location where the work is done, or if remote work is a perk. Companies find it beneficial to include tech support, too. It is important to have cybersecurity issues in place. And if there is a technical difficulty, that worker needs to know who to turn to for support.
After a work-related injury, talk to a Baltimore personal injury attorney to determine the best path moving forward. While it is often simpler to prove a claim when an injury happens in a workplace because of witnesses and documentation practices, proving a remote claim is also a possibility.
Insurance companies have been known to deny claims, but with a personal injury lawyer working for you it may be possible to illustrate your need for compensation, even when the injury happened in your own home. The issue is proving the injury happened in direct relation to your work.
Were you injured while you were participating in a work-related task at home? Contact the legal team at Iamele & Iamele, LLP to understand your options. Contact us today for a free initial consultation.
https://www.iamelelawfirmbaltimore.com/when-is-a-landowner-responsible-for-premise-liability/