Evidence To Prove Loss Of Income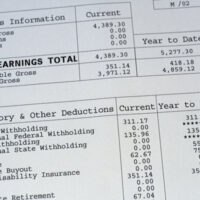 If you were injured in a Maryland accident, your body will need time to recover. And sometimes a person is unable to work while they go through the healing process. Either because of the nature of their job, the extent of their injuries, or both.
Income loss can be emotionally stressful during a time when you should be focusing your energy on healing quickly and completely. Financial stress is common as over half of Americans rely on each paycheck to make ends meet. Daily living costs can pile up and you may need to include lost wages in your personal injury claim in order to be made whole again after an accident.
One of the many advantages of hiring an experienced Baltimore personal injury lawyer is that they know how to secure the evidence you need to get the settlement you deserve. Compensation for hourly wages, bonuses, commissions, tips, and overtime pay are all possible if you were unable to work due to another's negligence.
Proof of Inability to Work and Loss Amount
There are two forms of proof you will need to secure lost income. The first is that the injury made it impossible for you to work. If you have a doctor's note that you shared with your employer informing them of your inability to perform job duties for a set period of time, that could be a form of evidence. Additionally, any documentation from healthcare professionals that outline workplace accommodations you need now or into the future is helpful.
Next, you will need proof of your pay before the injurious event and evidence of how much income you lost. This could be calculated in a range of ways, depending on the industry you work in and how you are compensated. It is likely your attorney will request some of the items below in order to calculate your wage loss accurately.
Past and current pay stubs
W-2 tax statements
Self-employment records, including 1040 tax forms
Bank and financial statements
Statements from banks are beneficial for documenting self-employment income and commission/bonus payments.
Paid Time Off (PTO) Recovery
The first resource many employees tap when they need to take time off from work is their PTO benefit. If you used up your PTO when home allowing your Maryland crash injuries to heal, you could be reimbursed for that time through the claims process. This is because that is pay you no longer have access to if you need to take personal time or schedule an appointment outside of work.
Insurance adjusters often dispute paying out for lost income, but a Baltimore personal injury lawyer can help you. The process may be complicated, but with a legal professional who understands Maryland law working for you, damage recovery is not out of reach.
Do you have questions about lost income and personal injury claims? If you have to take time off work to heal, connect with a skilled personal injury lawyer to learn about your options. The attorneys at Iamele & Iamele, LLP are aggressive, experienced, and compassionate. When you are ready to hire top quality representation, call 410-779-6160 and book your free consultation.