Consequences For Boating Under The Influence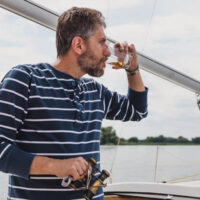 With so many waterways to enjoy, many Maryland residents and visitors enjoy boating. Either they own a boat of their own or relax on a friend's boat when on vacation. For some, sipping a glass of chilled white wine or beer is part of the boating experience. While it is legal to responsibly enjoy an adult beverage while boating in Maryland, there are laws in place to penalize individuals who are boating under the influence (BUI) or boating while intoxicated (BWI). Drunk boaters put others and themselves at risk of accidents and injuries.
People have lost their lives due to impaired boat operators and Maryland law takes boating under the influence seriously. If you have been charged, you need the guidance and expertise of an experienced Baltimore DUI lawyer.
Penalties for BUIs and BWIs
There are differences between BUIs and BWIs, each carries their own penalties. In most cases, a BUI will lead to more severe consequences, but both charges can be costly and have a significant impact on an offender's life moving forward.
Possible penalties for a BUI:
A first offense will be a misdemeanor charge that will likely carry a penalty of prison for up to a year and fines up to $1,000.
While a second offense is also a misdemeanor, the penalties are doubled, resulting in up to $2,000 in fines and loss of freedom for up to two years.
A third offense follows the same pattern, with fines and jail time being triple that of a first-time offender.
Of course, if there were injuries that were life threatening or fatalities as a result of a boater being under the influence, charges could be elevated to a felony and consequences will be more severe.
A BWI charge could involve a person boating impaired due to alcohol or drug use. First offenders will likely receive a fine of up to $500 and two months in jail and subsequent offense penalties increase.
Connect with an Experienced Attorney
Of course, your unique situation will have to be assessed individually. You likely have many questions you need answers to. For example, many wonder if a BUI will impact their ability to drive a land vehicle. In most situations, you are able to retain your Maryland driver's license even if you have a drunk boating conviction. While that can be one source of relief, you will face fines and jail time if you are convicted of a BUI or BWI charge. Reach out to a skilled Baltimore DUI lawyer to learn more.
Were you or someone you care about charged with a BUI or BWI in Maryland? You need a Maryland criminal lawyer to assess your situation and strategize your defense. Our seasoned legal team has the skills and experience to defend you need. For trusted advice on how to defend yourself against criminal charges in the Baltimore-Washington Metropolitan area, contact the legal team at Iamele & Iamele, LLP. Free initial consultations are available. Contact us today to schedule your appointment.