Baltimore Hotel Injuries And Your Right To Compensation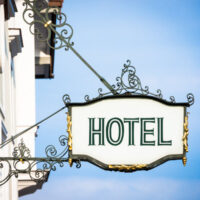 Hotel stays are often connected to celebrations and holidays. Families may book a hotel to visit family or go on vacation together. Or a couple may choose to spend a romantic weekend away from the familiarity of their own home. But even when people are traveling and celebrating, injuries can happen. If you or someone you care about is coping with medical expenses following a trip on ripped carpeting or has lost money due to time off work healing from food-borne sickness, financial compensation may be possible.
Of course there are times when a person is injured and it is not the fault of the hotel owner, but if there was negligent behavior, financial recovery is an option. Hotel property owners have a responsibility to provide their guests with an environment that is reasonably safe. If you believe a Maryland hospitality business was reckless, talk to a Baltimore personal injury lawyer. 
A Variety of Injuries Are Possible at Hospitality Businesses 
The hospitality industry is a large umbrella of businesses, including hotels, restaurants, theme parks, motels and resorts. While these are places people go to relax, recharge, and have fun, it is essential the people and organization running the business behave responsibly. Reckless, negligent behavior can lead to injuries.
Trip and slip hazards need to be fixed immediately. If it is not possible to fix the danger immediately, the public needs to be aware of the danger. For example, uneven, chipped pavement needs to be repaired or the area needs to be closed off until a repair can be made. Not doing this can lead to a guest falling and sustaining an injury.
Hotels and motels need to have a reasonable amount of safety in place for guests. During a hotel stay, visitors assume areas will be well lit and doors to private rooms will have working locks. If there are safety issues and a person is a victim of an assault, legal action is possible.
Maryland health inspectors assess the safety of commercial kitchens, but these inspections are not happening every day. On a daily basis, the restaurant staff is responsible for maintaining a sanitized environment with food stored safely. Food illness costs could be eligible for financial recovery if kitchen staff was negligent.
Hospitality businesses have insurance policies in place. To be sure you are securing a full and fair damage recovery, connect with a Baltimore personal injury lawyer. You may be offered an amount that is far lower than you could achieve with legal support.
Are you recovering from an injury sustained in a Maryland restaurant or Baltimore hotel? Discuss your damage recovery options with a seasoned personal injury attorney. The skilled attorneys at Iamele & Iamele, LLP have the skills needed to secure the damage recovery package you need to move forward. When you have medical bills, lost wages, and property damage expenses, you need financial support. Low ball offers can be avoided when you discuss the true value of your claim with a legal professional. To access a free consultation, call 410-779-6160.