BAC And Maryland Drunk Driving Laws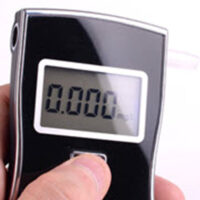 If you are charged with a DUI in the state of Maryland, the outcome of your case, including the possible penalties and consequences, will depend on a variety of factors, including your blood alcohol concentration (BAC).
Share the details of your situation with a skilled Baltimore DUI lawyer. Experienced attorneys understand Maryland drunk driving laws and will begin building your defenses as soon as the two of you begin an attorney-client relationship.
BAC Limits and Zero-Tolerance Rules
BAC is the amount of alcohol in a person's bloodstream and it is typically measured using a breathalyzer or blood test. The result is expressed as a percentage. For example, in Maryland, it is illegal to drive with a BAC of 0.08% or higher.
How a person's BAC will be impacted by the consumption of alcohol can vary, it will depend on the type of alcohol consumed, the rate of consumption, and a person's weight and metabolism. But there is a reliable way to determine a person's BAC, and that is through testing. If you are pulled over on suspicion of drunk driving, it is likely the law enforcement officer will ask you to perform a few different field sobriety tests and then follow those up with a breathalyzer test, which will provide them with your BAC.
It is also important to remember that Maryland drunk driving laws include a zero-tolerance policy for underage drinking and driving. This means a person who is under the age of 21 who is driving with any amount of alcohol in their system could face serious consequences. A BAC under 0.08% could result in the loss of driving privileges, for instance.
Challenging Evidence and Negotiating with Prosecutors
The legal system can be confusing for individuals who do not work within the justice system every day, particularly if you are under the stress of facing a DUI charge, but an experienced attorney can help you navigate the process and ensure that you understand your options and the potential consequences.
DUI cases often hinge on the results of BAC tests, and a lawyer can review the evidence and challenge any inconsistencies or inaccuracies to help build a strong defense. Additionally, prosecutors are often willing to negotiate plea deals in DUI cases, and an experienced attorney can negotiate with them to help minimize the penalties of a DUI conviction.
If you are charged with a DUI in Baltimore, DC, or the surrounding area, connect with a legal professional who has secured favorable outcomes for individuals in situations similar to your own. By hiring an experienced  Baltimore DUI lawyer, you can protect your rights, navigate the legal system, and minimize the consequences.
What Maryland drunk driving law questions do you have? Bring your questions to the legal team at Iamele & Iamele, LLP. It is important to act quickly, hiring an attorney as soon as possible after an arrest. There may be defense strategies to pursue you are not familiar with, strategies that require prompt attention. Contact us to book your fee-free consultation appointment.