Are There Different Forms of Distracted Driving?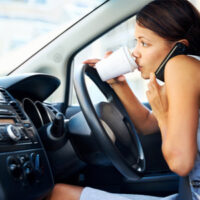 Yes, there are many forms of distracted driving. While digital devices create distractions, they are not the only source. Sometimes there are car accidents because of a driver taking their eyes off the road to eat a sandwich, adjusting the music in their car, or moving to pick up an object from the floor of the vehicle. Anything that takes a drivers attention away from the road is a source of distracted driving.
Distracted driving causes accidents every day. Serious injuries and death can result. When drivers think of the risks, they may be able to avoid the urge to react to a text while driving. Talk to an experienced Baltimore auto accident lawyer if you or someone you love was injured in a vehicle crash.
People Are Accustomed to Checking Their Devices
It is common for people to believe they are multitasking when they check their phones regularly. But in reality, they are taking their focus off of one thing and moving it to another. This is not a big issue if someone checks emails, text messages, and social media accounts while watching a movie on the couch, but if a person is driving a vehicle they need to keep their eyes on the road.
A driver who is distracted for even a few moments can cause a car accident with another vehicle. Multiple vehicle car crashes can even result, particularly if the distracted driving takes place in bad weather or there is another variable present that creates heightened risks.
Hands-Free Options Still Carry Risks
Types of devices that do not require touch, such as hands-free devices using voice commands, have become more popular for use in cars. While it is advisable to keep your hands on the wheel, hands-free devices are not without their own risks. If a driver is too focused on a conversation then on driving, they can be slow to respond to dangers when driving, for instance.
Another way devices can be distracting is when alerts of phone calls or text messages lead a driver to feel they have to attend to the alert immediately. If it is truly an issue that needs attention right away, drivers need to pull over to over information safely.
Anytime a driver does not have their mind and eyes on the task of driving a vehicle, they are not participating in safe driving habits. Many believe that they can control their car while doing another task. This is not true, even if the individual is using hands-free technology. Serious auto accidents occur because of distracted driving.
Contact a Personal Injury Lawyer Today
Were you injured in an accident with a distracted driver? You need a lawyer to help you navigate the complex legalities of filing a personal injury case. Contact the Baltimore auto accident lawyers at Iamele & Iamele, LLP to understand your options. With decades of experience, our Baltimore-Washington Metropolitan attorneys can help you secure the compensation you deserve. Contact us today for a free initial consultation. We are here to help you.
https://www.iamelelawfirmbaltimore.com/baltimore-and-washington-dc-rush-hour-risks/