Airport Accident Injuries And Financial Recovery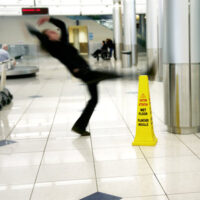 If you spend a lot of time in airports, you are not alone. Many who reside in the Baltimore area find themselves waiting in terminals at Baltimore/Washington International Thurgood Marshall Airport, usually referred to as BWI, on a regular basis, either for work trips or family travel.
Additionally, many people in the area fly out of DC area airports, such as Dulles International Airport and Ronald Reagan Washington National Airport when these airports prove to be more convention or less expensive. With all this travel, it stands to reason that accidents occur in airports, and they do.
Airport accidents can be very dangerous. If you were injured in an airport, you may need financial recovery to cover the costs of medical fees and time off of work. To learn about airport injury claims, connect with a seasoned Baltimore personal injury lawyer.
Where Do Airport Accidents Happen?
Accidents resulting in injury happen in public spaces all the time, and some of these are a result of negligence. So, in short, an airport accident can occur in a wide range of places and situations, such as the following.
Cleaning fluids are spilled on walkways and no signage is out to alert the public, leading to slip accidents.
Restaurants do not adhere to safe practices and serve spoiled food resulting in illness.
Defective escalators result in a person falling and sustaining an injury.
Unsafe conditions in garages or parking lead to individuals tripping and falling.
Improper safety results in negligent security.
Any situation that was unsafe and led to you being injured in an airport could be grounds for an airport injury claim. But to move forward, you will need to have documentation of the hazard and the injury sustained, so it is important that the accident is reported and a health assessment promptly takes place.
An Attorney Can Help You Build a Successful Claim
Even if you feel it is clear you are in the right, you may not be able to access a maximum recovery amount without the correct documentation. Plus, insurance adjusters are professional negotiators. There are a lot of factors to assess when pursuing compensation for an airport injury. A qualified Baltimore personal injury lawyer has the experience you need. They will know which deadlines need to be followed and what type of supporting evidence is required.
Experts are on hand to provide you with legal guidance at any point. Reach out today if you are just starting the process or have begun but now find yourself at a complicated crossroad.
Is it time for you to pursue the recovery you need following a Maryland airport injury? Damage recovery could be possible, connect with a skilled personal injury lawyer to learn about your options, which could include an injury claim or lawsuit. The attorneys at Iamele & Iamele, LLP are committed to supporting clients with legal guidance throughout the claim process. When you need top quality representation, call 410-779-6160. Our compassionate, aggressive attorneys are available and will provide you with a free consultation.