Domenic R. Iamele
Selected as The American Trial Lawyers Association Top 100 Trial Lawyers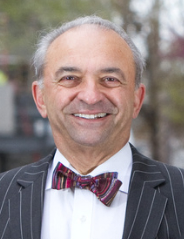 Domenic R. Iamele was born in April of 1944 and raised in Brooklyn, New York. Domenic Iamele graduated from the New York University in 1965 and then earned his law degree from the University of Baltimore School of Law in 1969.
Domenic Iamele began his legal career with the Baltimore City State's Attorney's Office. Between 1970 and 1975, working as Assistant State's Attorney, Domenic Iamele prosecuted a pride range  of criminal matters, from benign misdemeanor to the most serious capitol offenses. Domenic Iamele later left public service to become an associate with the firm of Edelman, Levy & Rubenstein, where his practice focused on labor law and the representation of unions before federal and state courts, as well as the labor board. In 1980, Domenic Iamele formed the law firm of Levy & Iamele.
For more than twenty years Domenic was a principal in that firm, during which time he had occasion to handle and try thousands of criminal, personal injury, automobile accident, malpractice and workers compensation cases throughout the State of Maryland. In 2004, Domenic affiliated himself with his son and formed Iamele & Iamele. The collaboration between the father and son produced instant results when they obtained a jury verdict in excess of $100 million in the first case that they tried as a team. Together, they are now focusing their attentions on representing injury victims and criminal defendants.
Domenic Iamele has the prestigious distinction of being an AV Preeminent lawyer for 35 plus years.  He is admitted to practice in all State and Federal Courts in Maryland. Domenic is a member of the Maryland Association for Justice, the Association for Justice, the Maryland Criminal Defense Lawyers Association, the National Criminal Defense Lawyers Association, the Justinian Society, the Maryland Bar Association, and the Baltimore City Bar Association.